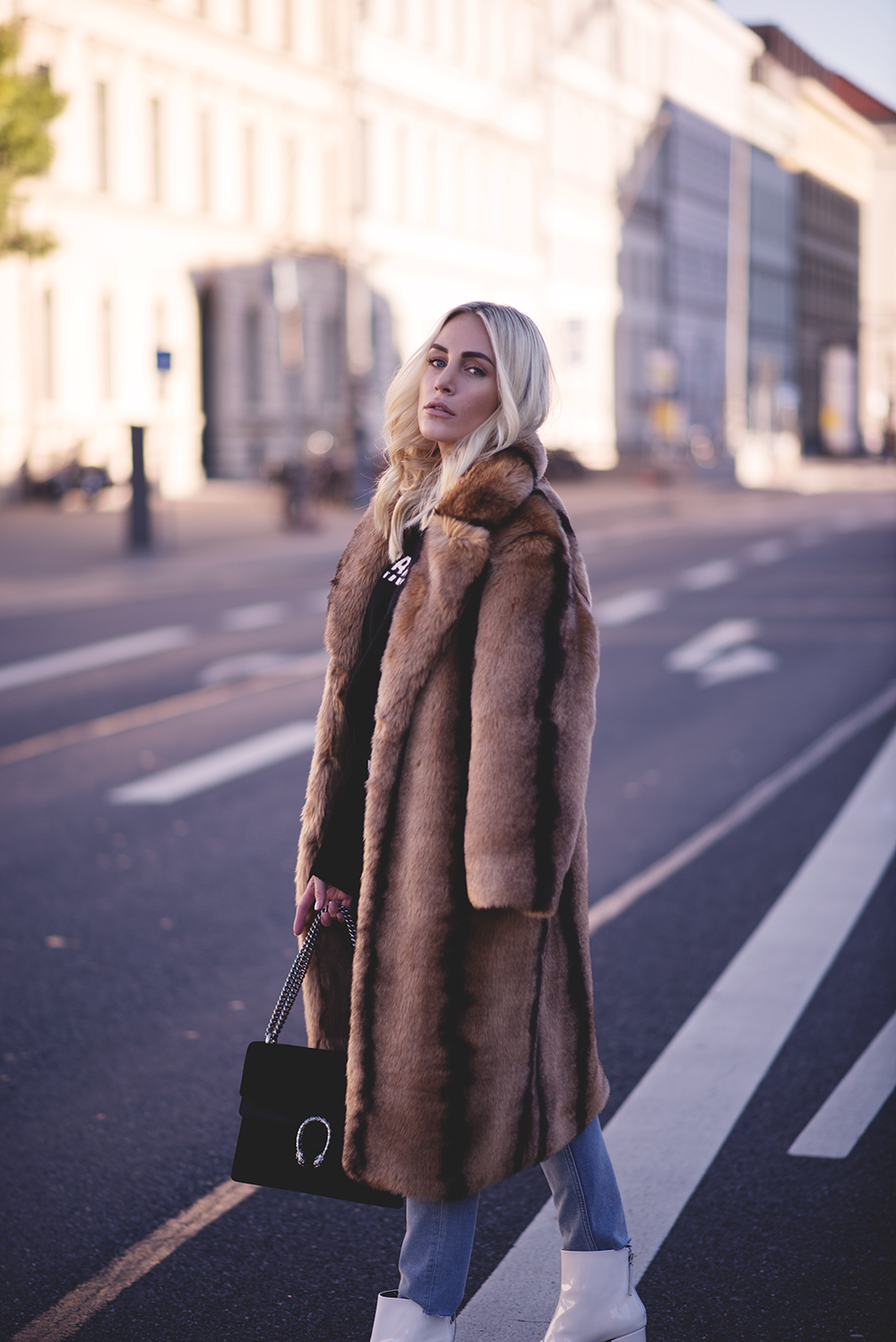 Bei diesem Fake Fur Coat, musste ich schon ein wenig überlegen. Ich war zwar auf den ersten Blick zu hundert Prozent von diesem Stück überzeugt, jedoch wusste ich : So ein Mantel fällt definitiv auf und bestimmt ist nicht jeder ein Fan davon.
Dennoch ist er einfach wunderschön, für den Winter kuschelig warm und er lässt sich perfekt zu allem kombinieren.
Außerdem erinnerte er mich total an einen Mantel aus Sex and the City, den Carrie öfter getragen hat. Das ist schon ein Kaufargument für sich 😉 .
In meinem heutigen Look, habe ich meinen Fake Fur Coat zu einer lässigen Jeans, einem cropped Pullover und meinen neuen weißen Boots kombiniert. Weiße Boots in Lackoptik sind diese Saison definitiv ein großes Thema und eignen sich perfekt zu kuscheligen Pullovern und einer Jeans. Ich liebäugle im Moment auch mit ein paar Boots in einem knalligen rot… Und Lack/-Vinyloptik sind momentan sowieso Materialien, die mir unglaublich gut gefallen. Sei es als Rock oder als Hose, bei letzterem habe ich leider noch nicht DIE perfekt sitzende gefunden.
Heute ist bereits Tag 2 meiner Saftkur und es geht mir etwas besser als gestern. Am ersten Tag friere ich immer sehr schnell, habe Kopfschmerzen und bin einfach müde. Aber das ist alles kein Problem und ich bin gespannt wie es die nächsten Tage weitergeht.
Am Samstag geht unser Blogger Flohmarkt bereits in die fünfte Runde. Wer noch nicht zugesagt hat und weitere Infos dazu möchte, kann sich HIER anmelden.
Shop the Look: