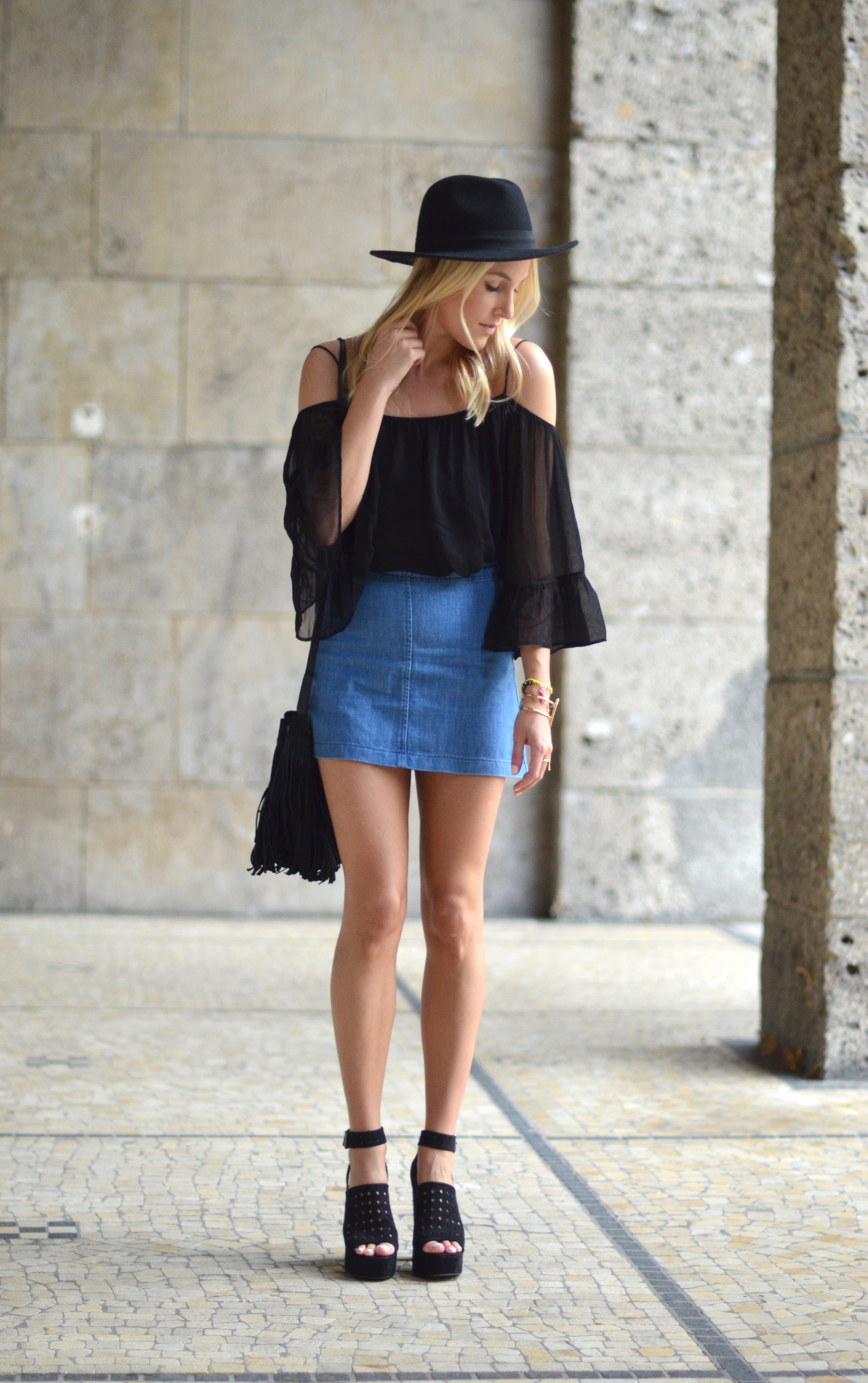 Mood: Give me that old school love, y'all can have this new shit.
Jeansrock ja oder nein?!
Ein bisschen zurückversetzt in meine Pubertät komme ich mir schon vor in diesem Outfit.
 Aber es ist nun mal Fakt:
In der Mode kommt alles wieder.
Vielleicht in etwas anderen Varianten, aber es kommt wieder.
Mit 14 bin ich total auf MissSixty hängen geblieben und war stolze Besitzerin eines "Carmen Tops", so ähnlich wie bei diesem Outfit.
 Okay vielleicht nicht ganz so ähnlich:
 Damals war mein Top rot und bauchfrei.
 Äh ja…
(Früher dachte ich mir wohl je weniger Stoff desto cooler. Oder so.)
Genauso war es mit den Jeansröcken.
 Wer hat denn bitte nicht einen flotten Jeansrock mit Leggings und Ballerinas kombiniert? Wunderschön.
Ich bin heil froh das ich die Pubertät überstanden habe und finde meine aktuelle Variante von Jeansrock und Carmen Top definitiv tragbarer als damals.
Aber wer weiss, vielleicht frage ich mich in 10 Jahren auch: What the hell!?…
Hin oder her meine persönlichen It Pieces im Moment:
Jeans Rock
(bitte ohne Leggings und Ballerinas)
&
 Carmen Top
(vielleicht nicht unbedingt in rot und bauchfrei..)
Xx. S.