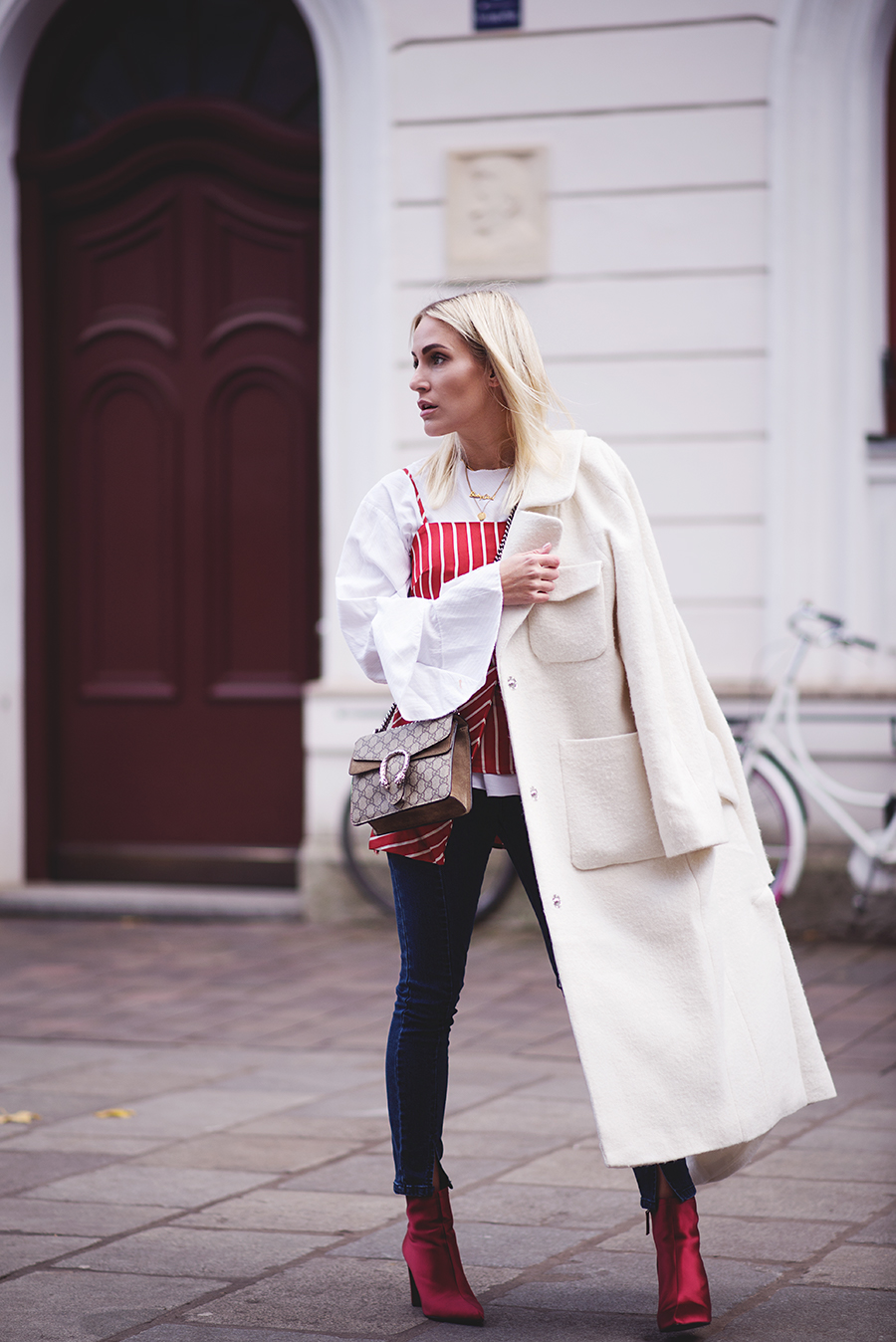 Gott was haben wir bei diesem Shooting gefroren! Der Winter macht uns wirklich immer sehr zu schaffen… Das Licht ist grundsätzlich nie besonders schön, eher grau. Die Zeit in der dieses graue Licht existiert ist extrem begrenzt und dann kommt noch die Kälte hinzu… Es geht so weit, dass wir ab und zu Pausen einlegen müssen: Unsere Hände sind so kalt, dass wir gar nicht mehr in der Lage sind eine Kamera auch nur ansatzweise zu bedienen. Trotzdem sind wir immer mehr als happy ,wenn das nächste Outfit im Kasten ist.
Outfit
Als ich diesen Look zusammengestellt habe, war ich tatsächlich schon ein wenig in Weihnachtsstimmung. Rot, ist wie ich Euch in diesem Post bereits verraten habe, diese Saison  mein absoluter Favorit und gerade zur Weihnachtszeit genau richtig! In Kombination mit Weiß, erinnert mich dieser Look immer an ein amerikanisches Winter Wonderland, oder eben an eine Zuckerstange 😉 . Also perfekt geeignet für den Besuch auf dem Christkindlmarkt, bei einem heißen Glühwein. Wobei ich ja ein absoluter Eggnog Fan bin. Gibt es noch jemanden unter Euch der dieses Getränk in der kalten Jahreszeit so abgöttisch liebt?
Zu meinem weißen oversized Mantel, habe ich meine neuen roten Satin Boots kombiniert, die Ihr auch in meinem "Best of Stiefel 2017"  finden könnt. Da ich mein sommerlich gestreiftes Top nach wie vor bei diesen Temperaturen noch tragen möchte, habe ich einfach eine Bluse darunter angezogen. Ein Look der letztes Jahr relativ groß war und meiner Meinung nach, auch diese Saison noch nicht verschwunden ist. Das Oberteil ist übrigens aus dem australischen Onlineshop Verge Girl.
Da ich im Moment ein Praktikum in einer Hausarztpraxis absolviere, ist es etwas ruhiger auf meinen Social Media Kanälen.. Aber auch das muss mal sein. Die Allgemeinmedizin ist leider immer noch nicht mein Favorit und wird es wohl auch in Zukunft nicht.. Dafür freue ich mich sehr auf das kommende Wochenende: Zum einen gehen wir zum ersten Mal auf den Christkindlmarkt, zum anderen hat unsere geliebte Hashtagilse Geburtstag! It´s gonna be LIT! In diesem Sinne… Xx. S.
Shop the Look: