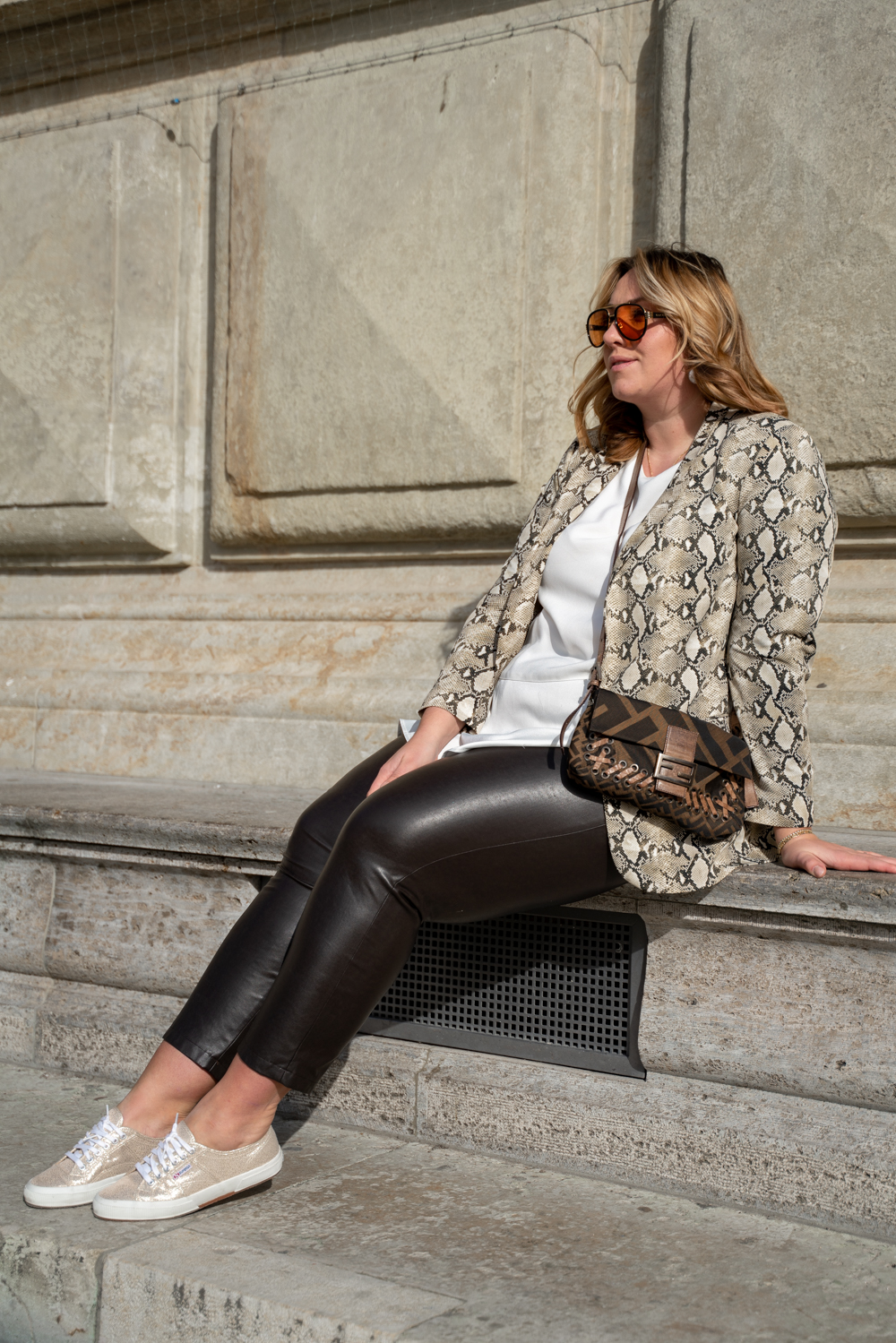 Anzeige/Transparenz: In diesem Artikel werden Designer genannt. Dies ist eine Werbung ohne Auftrag oder Bezahlung.
JA, die Fendi Baguette ist back und ganz ehrlich, damit hätten viele von uns nicht gerechnet. Ich um ganz ehrlich zu sein auch nicht. Aber gut, bei der Dior Saddle Bag war es doch in der Tat genauso. Jeder der Sex and the City kennt, sollte auch die Fendi Baguette und den berühmten Spruch: "This is not a bag, ist a Baguette!" kennen.
Als ich auf Instagram bei Caro Daur gesehen habe, dass die Fendi Baguette wieder ihr Comeback feiert, habe ich mich direkt auf die Suche nach einer passenden Vintage Variante gemacht und bin auch direkt auf Vestiaire Collective fündig geworden. Ich habe dieses hübsche Ding mit einem kurzen und einem langen Henkel zu einem spitzen Preis von 250 Euro ergattert. Stark oder?
Dieses Mal wollte ich einfach schneller sein, denn bei der Dior Saddle Bag hab ich mir einfach zu viel Zeit gelassen und schon sind die Preise wieder angestiegen. Somit habe ich fürs erste Mal auf diese Tasche verzichtet. Auf meiner Wishlist steht sie aber nach wie vor noch.

Aber ganz ehrlich, lohnt es sich überhaupt in Designer Sachen zu investieren?
Ich sage JA, Definitiv! Wie viele von Euch wissen, liebe ich es meine Taschen oder auch Schmuck Vintage zu kaufen. Die meisten Sachen finde ich auf Vestiaire Collective oder auch auf Ebay Kleinanzeigen. Natürlich schnappe ich gelegentlich auch das ein oder andere Teil auf dem Flohmarkt, aber das ist eher seltener geworden.
Wenn ich gebrauchte Designer Sachen auf Kleinanzeigen kaufe, achte ich sehr oft darauf ob der Verkäufer noch weitere Designer Artikel anbietet oder ob ggf. auch noch Zertifikate oder Rechnungen vorhanden sind. Bei Vestiaire Collective ist man in dieser Hinsicht super geschützt, denn die Ware wird vor Versand auf Echtheit geprüft. Gut oder? Wie sieht es da bei Euch aus? Kauft ihr auch mal Vintage? Und was haltet ihr von der neuen Trend Tasche der Fendi Baguette?